Eco-friendly underwear for people and the planet
We believe businesses have an important role to play in tackling climate change and providing conscious consumers with products that are kind to the planet and its people.
Every pair of Powerpants is made with GOTS certified organic cotton, circumnavigating the toxic chemicals used to make conventional cotton and other harmful fabrics.

We ensure all Powerpants suppliers are aligned with our eco-friendly values, with each chosen based on their social and environmental credentials.

* Powerpants is Australian owned and run and our products are designed and printed in Australia and made in China. Our manufacturer is Jiangyin Fuda Garment Co., Ltd. (Jiangyin, China), trading as Finetex Co., Ltd. (Hangzhou, China). They are Business Social Compliance Initiative (BSCI) certified, meaning they pay their staff fairly and provide good working conditions.

* Powerpants products are made from GOTS certified organic cotton by Wuxi Taida Textiles Technology Co., Ltd. (Jiangsu, China). Certificate No: CU1000999GOTS-2018-00002105 & CU1004002GOTS-2021-00001885 & Jiangsu Wulong Knitting Co., Ltd. Certificate No: CU1004002GOTS-2022-00156936 (95% cotton, 5% elastane, exclusive of trims).

* Our garments are shipped to us in Australia to be lovingly wrapped in our eco-friendly packaging (rather than individually wrapped in plastic for transit).

* We use recycled, recyclable and compostable packaging from noissue. (Sydney, Australia), PrintTogether (Melbourne, Australia) & The Better Packaging Co (Australia).

* All Powerpants affirmations are brought to life with high quality, eco-friendly, water-based printing through the talented team at Coda Design Studio (Sydney, Australia)

* Powerpants orders are packed at our solar-powered office in Sydney and delivered by foot to our local post office.

Transparency is important to us. If you have any questions about our supply chain, please feel free to get in touch.
Yang sewing our new grey Powerpants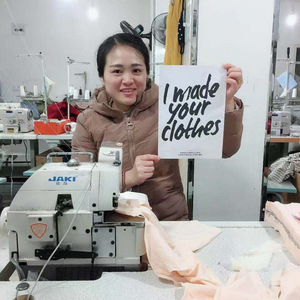 Wang sewing the first ever batch of Powerpants